Regular price
Sale price
Rs. 999.00
Unit price
per
Sale
Sold out
A beautiful combination of 3 stones that can help you boost your relationship.
*GST will be calculated during checkout

If your relationship is stuck in #ItsComplicated status, it's time to call on the vibrant Rhodonite crystal to soothe heartache by infusing your soul with pure love. Known as the "rescue stone," it's one of the most powerful heart chakra stones in the gem world, working as your therapist in couples counseling to bolster feelings of forgiveness and compassion, the essential virtues necessary for unconditional love to flourish. Its strong heart-based medicine helps release your fears, which are sometimes disguised as toxic emotions like anger, jealousy, or resentment.
Unakite is believed to be a stone of balance, grounding the self while bringing emotions and spirituality together. 
A stone for "new beginnings", Moonstone is a stone of inner growth and strength. It soothes emotional instability and stress, and stabilizes the emotions, providing calmness. Moonstone enhances intuition, promotes inspiration, success, and good fortune in love and relationship matters.
Whether you are looking for love from parents, siblings, kids, or partners consider it showered on you. If you are attracted to this bracelet, its universe answering your call for love!
All the crystals come with a how-to-use, charge, set intention guide, which contains all the information the individual needs to use the crystals.
Healing crystals are energy boosters, they show you the path to achieve desired goals. An individual needs to embrace the path and work on it.
How fast the results come is dependent on an individual's hard work, efforts, and sincerity to achieve the goal.
Crystals carry universal energy in them, they help individuals to bring the needed change in their life in order to achieve their goals. Crystals are part of spiritual work, and any spiritual work will take its own time and the results are always dependant on individuals.
View full details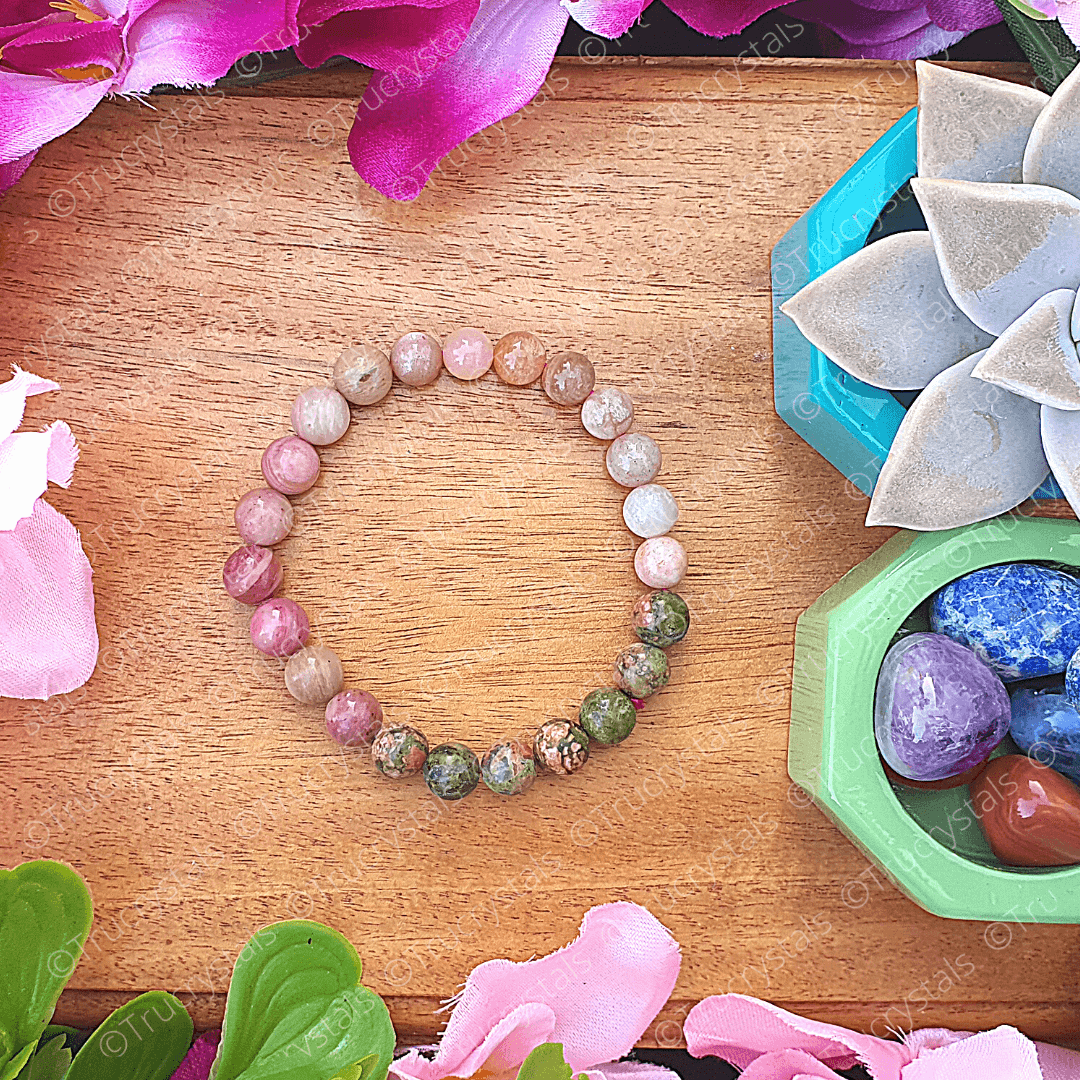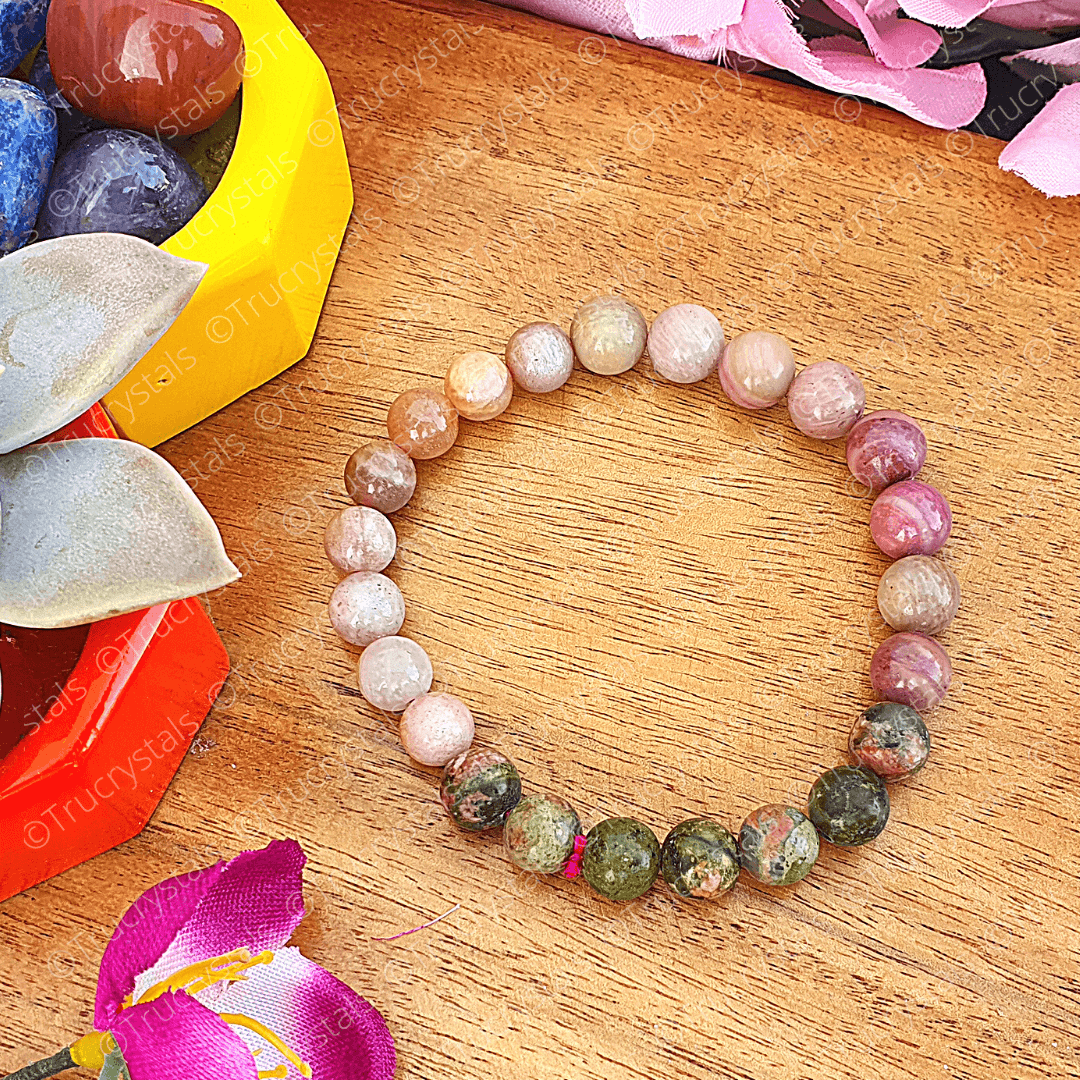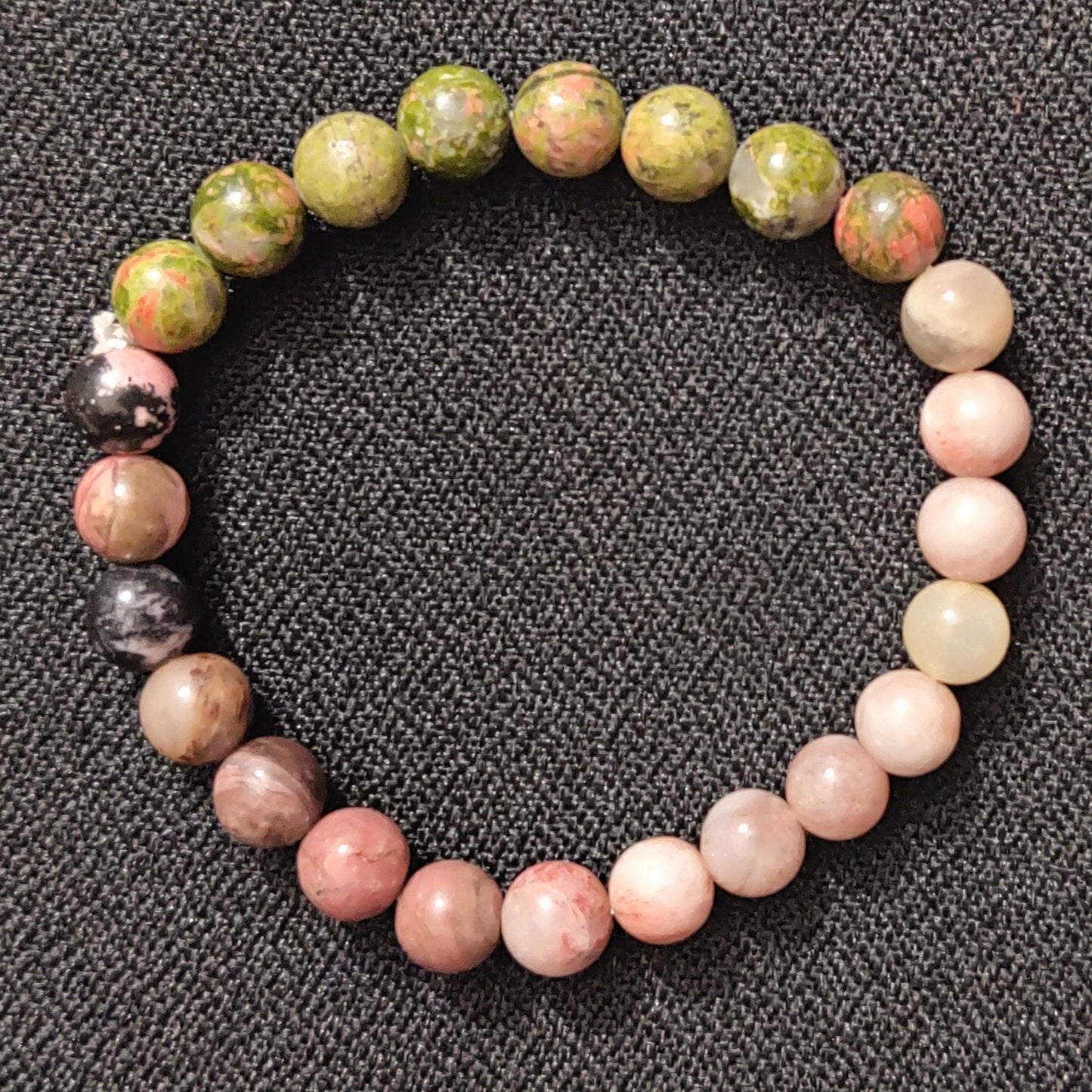 Love the crystals
From the website to the final product everything is fabulous. The place for any crystal requirement. Love the bracelet ❤️
Bracelet for love and belonging
Trucrystal is true to their service. I received the order in time and loved the beautiful fragrant packaging. Opening the box was a mini surprise. I felt a little disappointed to see the bracelet colour dull compared to the picture on site, but the energy is amazing. I can already feel its healing effects. Cute little additional gift was like great icing on the cake. Thank you Trucrystal team.
My Monday bracelet
I wear this beautiful bracelet alongside the fertility bracelet made of Carnelian on Mondays. I honour my sacral chakra on Mondays, precisely why I love wearing this bracelet containing Moonstone that's into sacral chakra too. And Rhodonite and Unakite only adds to the beauty ☺️
Love and belongin bracelet.
I feel good while wearing the bracelet, like I am peaceful and happy than before. I can see and feel the difference in my behaviour and moods
Amazing bracelet
Value for money. Lived the bracelet. Its full of positive vibes.. Good packing and just love it...
Energy healing
Peacefulness
Harmony In life
Happy & positive