Regular price
Sale price
Rs. 999.00
Unit price
per
Sale
Sold out
ntroducing our exquisite Macrame Wealth Hanging, a harmonious blend of nature's treasures, featuring lustrous Green Aventurine and radiant Pyrite tumbles. Crafted with precision and love, this captivating home decor piece seamlessly combines aesthetic beauty with the metaphysical properties of these two stunning gemstones.

Green Aventurine: This gentle and soothing stone is renowned for its ability to attract prosperity and good fortune into your life. It emanates a tranquil energy, promoting a sense of well-being and harmony within your living space. Green Aventurine is believed to open the heart chakra, allowing abundance and opportunities to flow freely.

Pyrite: Known as "Fool's Gold," Pyrite is a symbol of abundance and wealth. Its dazzling, metallic luster brings a touch of opulence to any room. Pyrite is said to enhance confidence, motivation, and the manifestation of your financial aspirations.

The Macrame Wealth Hanging is hand-woven with precision and care using durable, eco-friendly materials. The intricate macrame design not only showcases the beauty of the gemstones but also adds an element of boho-chic style to your space.

 Hang it by your window, over your bed, or anywhere in your home or office to infuse your surroundings with the energies of Green Aventurine and Pyrite. This elegant piece of art serves as a constant reminder to manifest abundance, prosperity, and positivity in your life. Ideal for Office, workspace, shops, gifting and home usage

**Product Details:**

- Size: 8 inches.
- Materials: Green Aventurine and Pyrite tumbles, Eco-friendly Macrame cord.
- Hanging Mechanism: A sturdy loop for easy installation. Loop size 4 inches.
- Handmade with love and care.

**Care and Maintenance:**

To maintain the vibrant energies of Green Aventurine and Pyrite, simply dust or wipe the tumbles with a soft, dry cloth. Avoid exposing them to harsh chemicals or prolonged sunlight.

Bring the charm of these enchanting gemstones into your life with our Macrame Wealth Hanging. Whether it's for your own well-being or as a thoughtful gift for a loved one, this exquisite piece will undoubtedly add an aura of prosperity and positivity to any environment. Embrace the power of nature and abundance with this remarkable creation.
View full details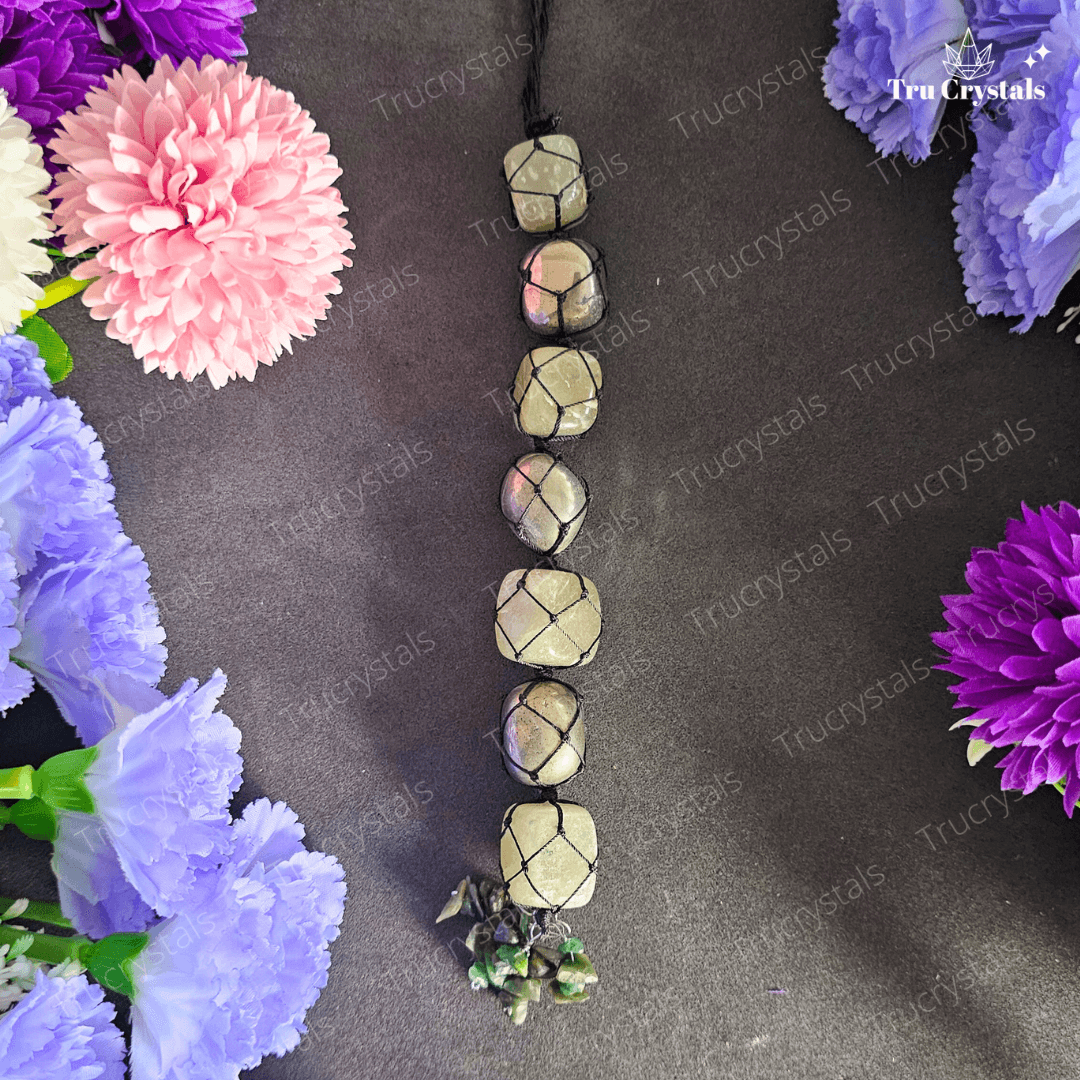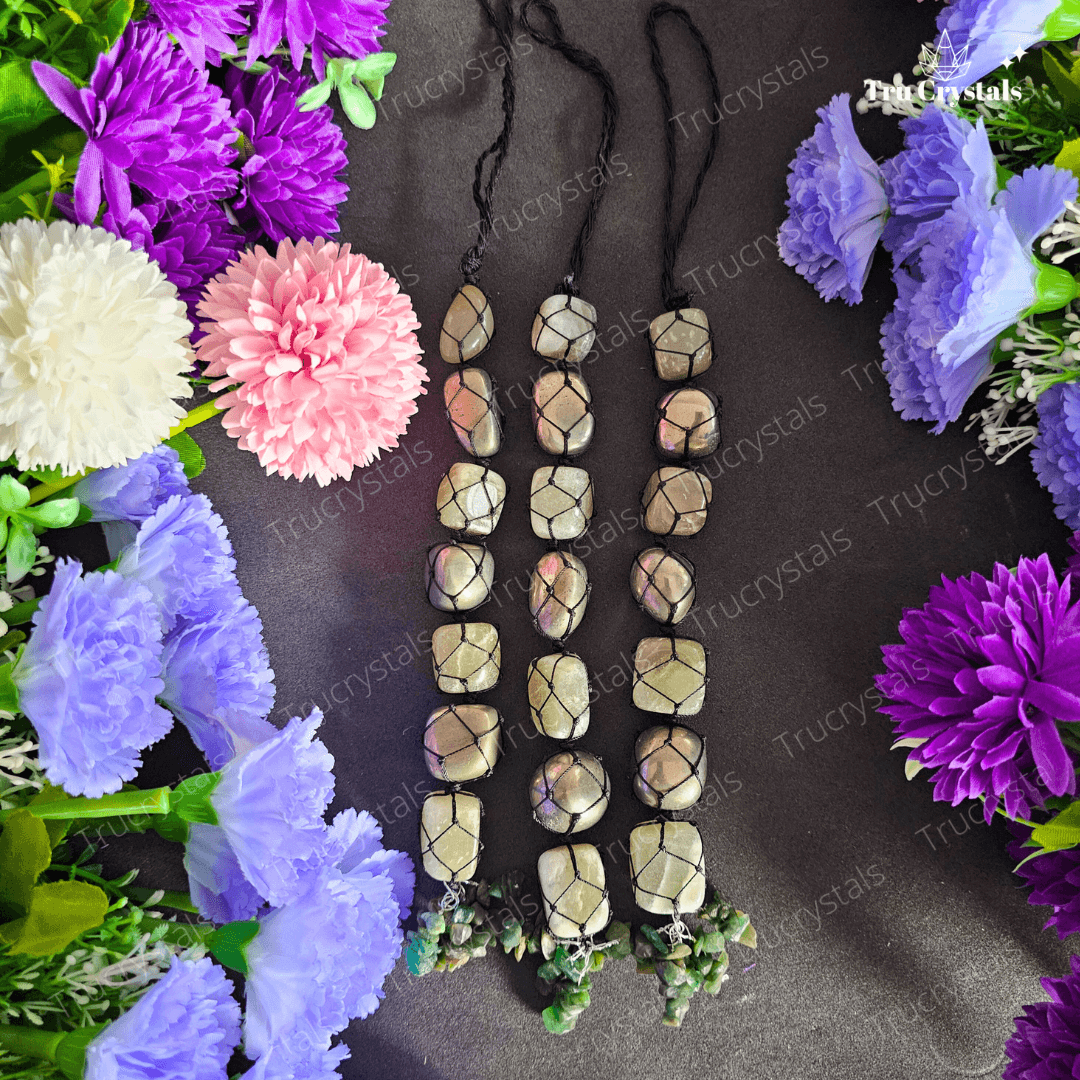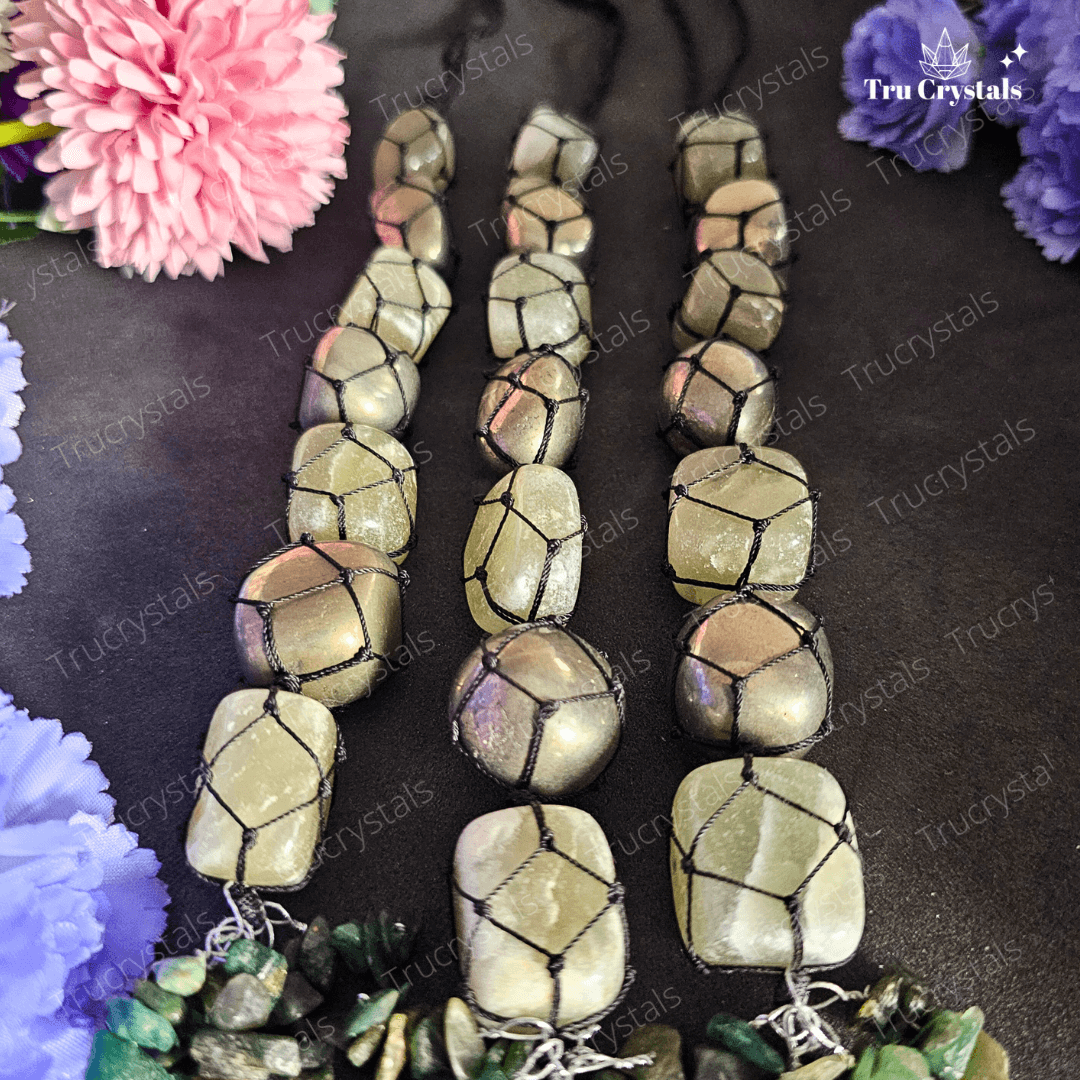 Energy healing
Peacefulness
Harmony In life
Happy & positive