Regular price
Sale price
Rs. 999.00
Unit price
per
Sale
Sold out
Our Clear Quartz Bracelet is a stunning and versatile piece of jewelry designed to bring the amplifying and healing energy of Clear Quartz into your life. This bracelet combines the beauty of natural gemstones with the metaphysical properties of Clear Quartz to create a stylish accessory with positive vibrations.

Key Features:
Genuine Clear Quartz Beads:
Each bead in this bracelet is crafted from genuine Clear Quartz, showcasing the crystal's natural transparency and clarity. The beads may vary slightly in appearance, adding to the uniqueness of the bracelet.

Elastic Cord for Comfort:
The bracelet is strung on a durable and stretchable cord, ensuring a comfortable fit for various wrist sizes. This feature allows for easy wearing and removal without the need for a clasp.

Stylish and Versatile:
The timeless and elegant design of the Clear Quartz Bracelet makes it suitable for both casual and formal occasions. Whether worn alone or stacked with other bracelets, it adds a touch of sophistication to any ensemble.

Handcrafted with Care:
Each bracelet is meticulously handcrafted with attention to detail, emphasizing the natural beauty of Clear Quartz. The craftsmanship ensures a high-quality and aesthetically pleasing accessory.

Metaphysical Significance:

Amplification of Energy: Clear Quartz is known for its ability to amplify the energy of other crystals. Wearing this bracelet may enhance the energetic properties of other stones you choose to pair it with.

Clarity and Focus: Clear Quartz is associated with clarity of thought and enhanced focus. Wearing the bracelet is believed to support mental clarity and assist in decision-making.

Crown Chakra Activation: Clear Quartz is linked to the crown chakra, which is the center of spiritual connection and consciousness. Wearing the bracelet may help activate and balance this energy center, promoting spiritual awareness.

Intentions: Clear Quartz is programmable and is often used to hold intentions. As you wear the bracelet, you can infuse it with positive affirmations and manifest your desired outcomes.
Energy Cleansing: Use Clear Quartz to cleanse and purify the energy of other crystals. It is often included in crystal cleansing rituals.

Meditation: Hold Clear Quartz in your hand or place it on your body during meditation to enhance focus, clarity, and spiritual connection

How to Wear:

Solo Statement:Wear the Clear Quartz Bracelet as a solo statement piece to showcase its elegance and the natural beauty of Clear Quartz.

Stacking: Create your personalized wrist stack by layering the Clear Quartz Bracelet with other bracelets or bangles. Mix and match to express your unique style.

Casual or Formal: The versatile design of the bracelet makes it suitable for various occasions. Whether you're dressing up for an event or adding a touch of sophistication to your everyday look, the Clear Quartz Bracelet complements any style.

Embrace the Positive Vibes, Wear the Clear Quartz Bracelet:
As you wear the Clear Quartz Bracelet, let the energy of Clear Quartz surround you, bringing clarity, focus, and amplifying the positive intentions you set. Whether you're a crystal enthusiast or simply appreciate the elegance of gemstone jewelry, this bracelet is a beautiful addition to your collection.

Adorn Your Wrist with Style and Positive Energy, Wear the Clear Quartz Bracelet


*GST will be calculated during checkout

Bead size : 8mm

Standard Size : 7.5 inches

All the crystals come with a how-to-use, charge, set intention guide, which contains all the information the individual needs to use the crystals.

Healing crystals are energy boosters, they show you the path to achieve desired goals. An individual needs to embrace the path and work on it.

How fast the results come is dependent on an individual's hard work, efforts, and sincerity to achieve the goal.

We are certified reiki healers and all our crystals are energized before being sent to our customers

Crystals carry universal energy in them, they help individuals to bring the needed change in their life in order to achieve their goals. Crystals are part of spiritual work, and any spiritual work will take its own time and the results are always dependent on individuals
View full details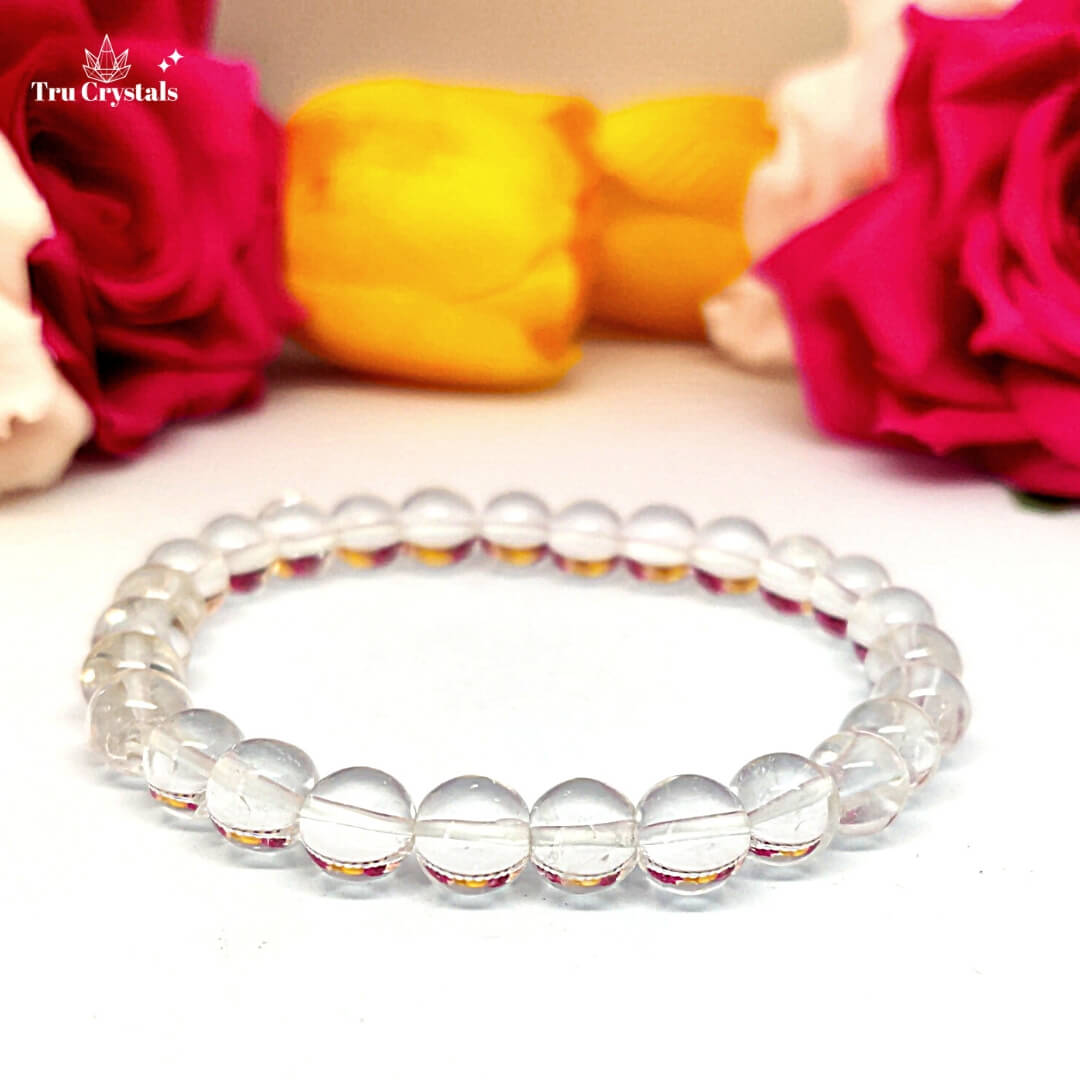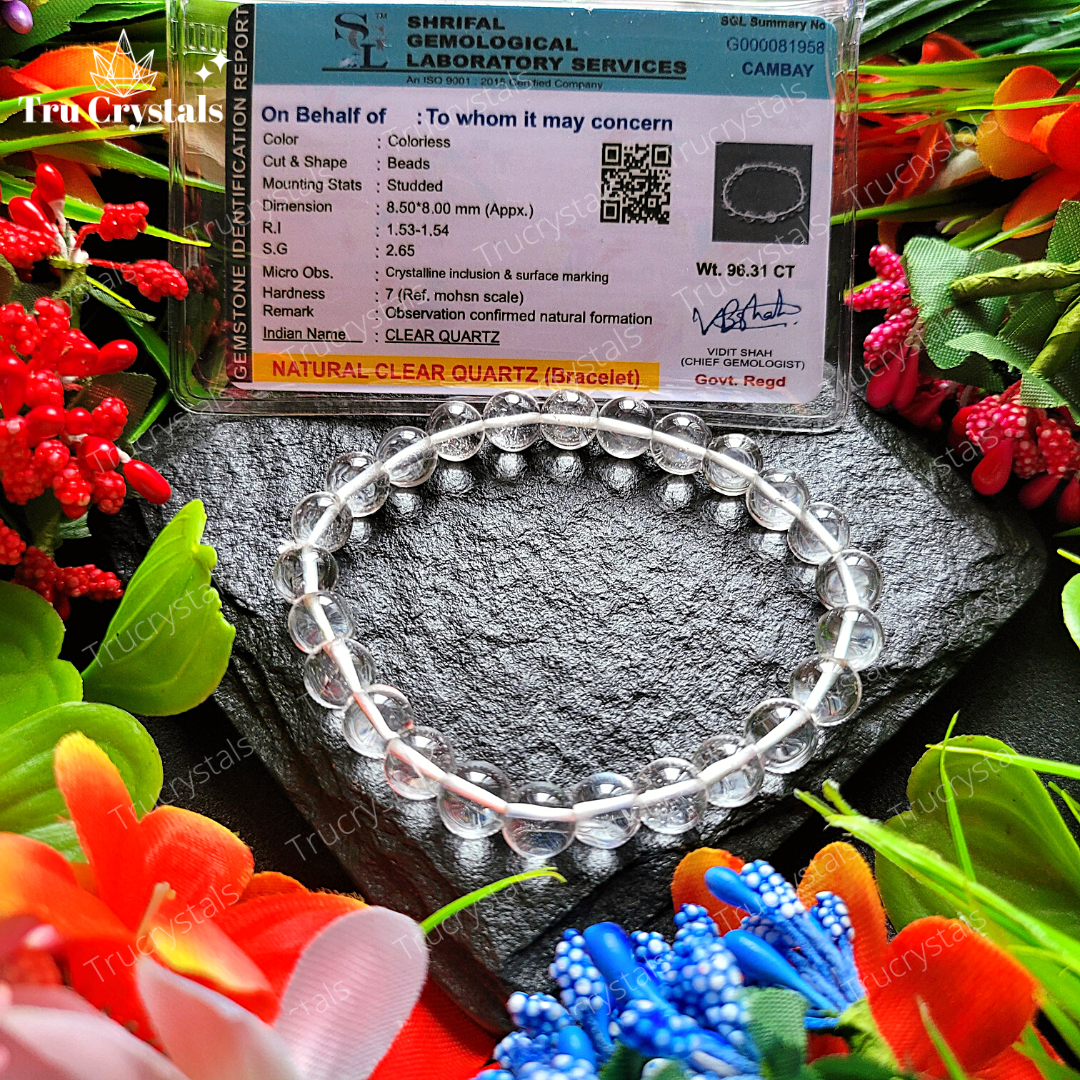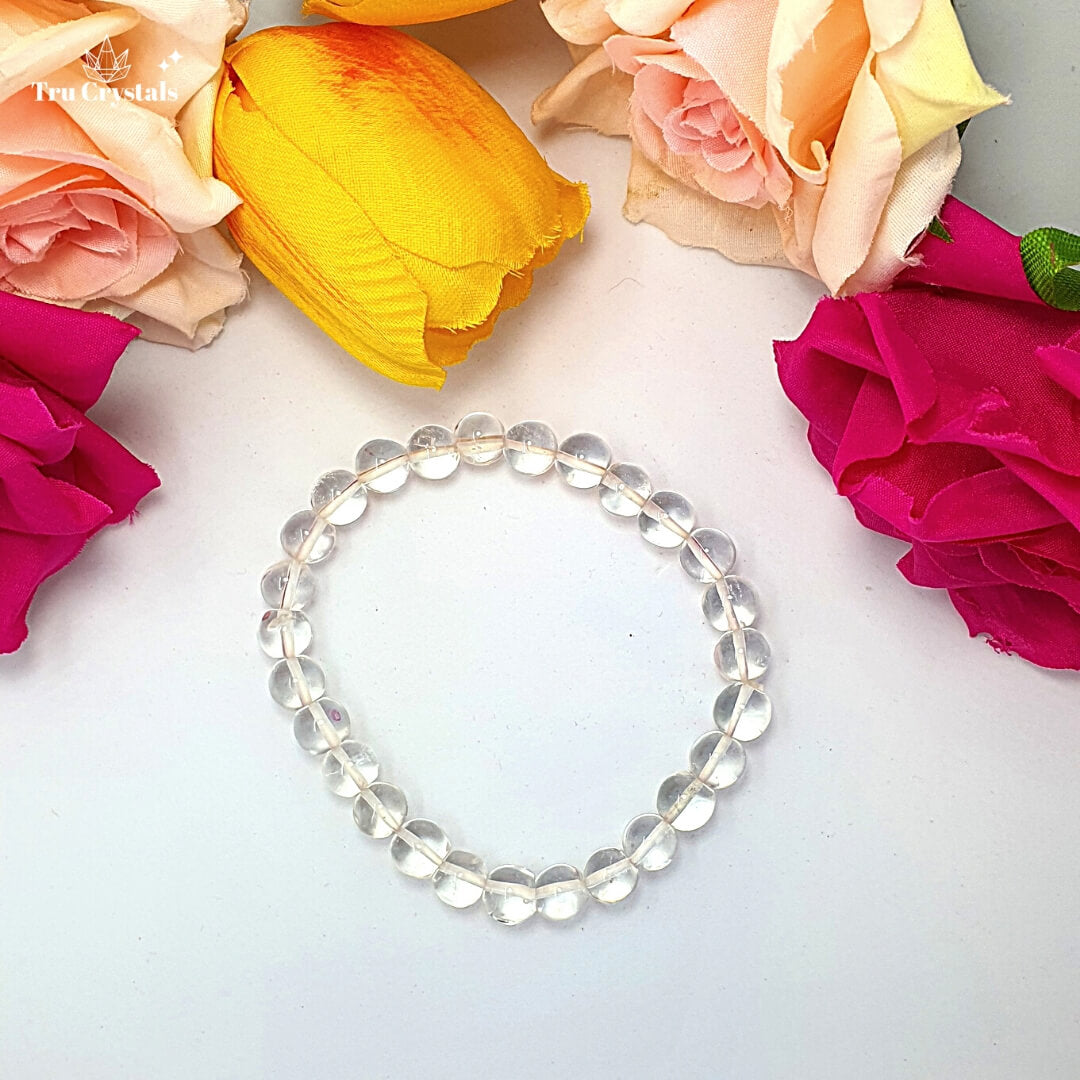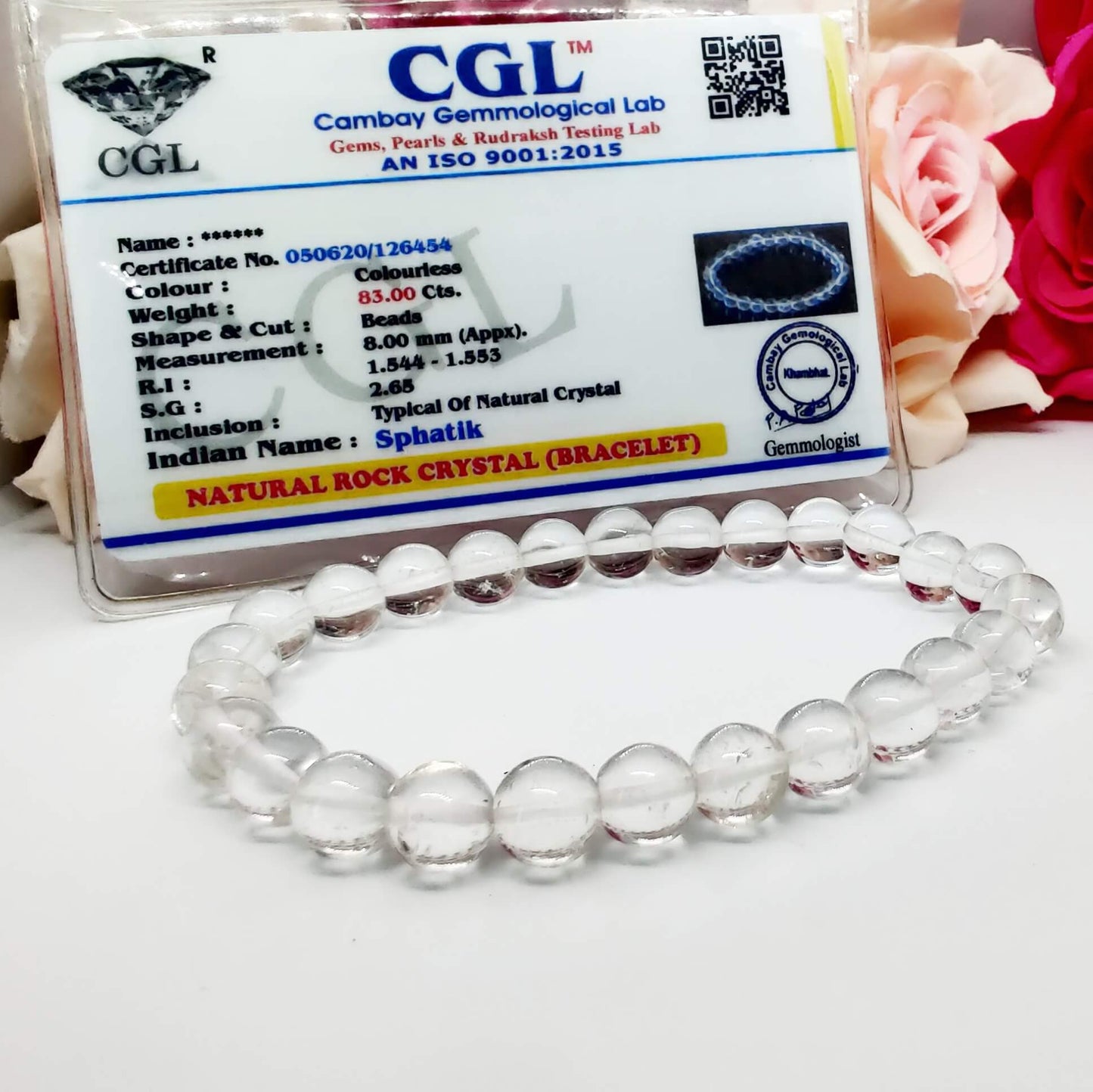 Clear Quartz Bracelet for Strength and Clarity
Regarding bracelet
I got the bracelet today.so well packed and when I opened also excited. Thankyou much. Will more purchase from you.
Quite effective- Clear Quartz
Truly genuine product
Crystal is amazing. It's my second order and I am very happy.
Authentic crystals
Packaging and quality is good
Energy healing
Peacefulness
Harmony In life
Happy & positive