Regular price
Rs. 1,179.00
Regular price
Sale price
Rs. 1,179.00
Unit price
per
Sale
Sold out
Are you the one who easily loses temper? Do you get irritated with life happenings? This beautiful bracelet helps you keep calm and peaceful.
Rose quartz has a wonderful ability to encourage self-love.
Negative self-talk can make us feel unworthy. This leads to self-sabotaging behaviors that can impact your relationships and outlook on life. By seeing the beauty in yourself, you'll be able to forgive yourself and others. This releases anger and resentment that you've stored over the years. Rose quartz also radiates compassion. Use this healing crystal to bring unconditional love to relationships and relieve stress-induced arguments.
Sodalite encourages rational thought, objectivity, truth and intuition, along with verbalisation of feelings. Sodalite brings emotional balance and calms panic attacks. It enhances self-esteem, self-acceptance and self-trust.
Chrysocolla: Knowing how to listen is often more important than what you say - and this is where chrysocolla's energy excels. It helps you to know when it's the right time to speak. But, more importantly, it teaches you when listening is the best course of action. Chrysocolla also stimulates a compassionate understanding of the other person's viewpoint. This allows you to communicate from a heart level, rather than from your head.
Black Tourmaline is a stone of purification, cleansing the emotional body of negative thoughts, anxieties, anger, or feelings of unworthiness. It helps in overcoming substance abuse and releases any suicidal thoughts or self-harming tendencies.
Amethyst is known as one of the best stones for stress and anger. This beautiful purple crystal emanates pure, elevated energies that dissolve anger, stress, resentment, and all other negative harmful emotions. It awakens clarity of mind and brings awareness keeping stress at bay. 
All the crystals come with a how-to-use, charge, set intention guide, which contains all the information the individual needs to use the crystals.
Healing crystals are energy boosters, they show you the path to achieve desired goals. An individual needs to embrace the path and work on it.
How fast the results come is dependent on an individual's hard work, efforts, and sincerity to achieve the goal.
Crystals carry universal energy in them, they help individuals to bring the needed change in their life in order to achieve their goals. Crystals are part of spiritual work, and any spiritual work will take its own time and the results are always dependant on individuals.
View full details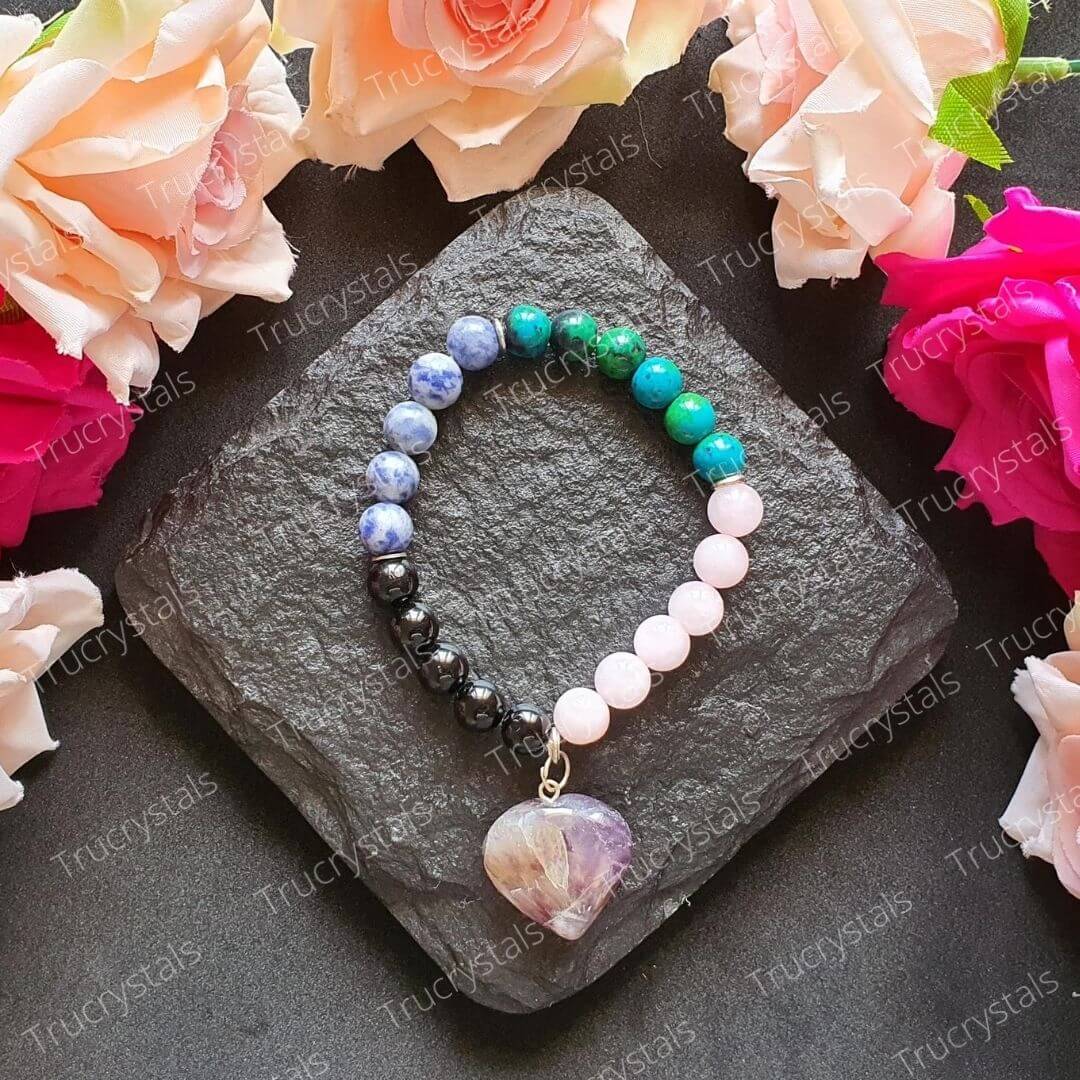 Life has changed in a positive and peaceful way. I am so thankful for universe and angels that direct me towards these crystals and spirituality.
A beautiful piece ,looking very nice on my hand.
Very pretty.. in love with it ❤️
Good quality
I am very satisfied with the product quality and the delivery timing.
Energy healing
Peacefulness
Harmony In life
Happy & positive